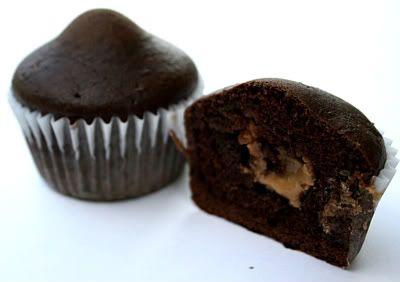 Ingredients
1 1/3 Cups Vanilla Soymilk
1/4 Cup Vegetable Oil
1 tsp rum Extract
1 tsp Apple Cider vinegar
1 1/2 Cups All Purpose Flour
1 Cup Sugar
1/2 cup of cocoa
2 tsp Baking Powder
1 tsp Baking Soda
1 Tbs Cornstarch
1/2 tsp Salt
1/2 cup of peanut butter
Directions
1. In a bowl, combine the soymilk, oil, rum extract, and vinegar. Mix well.
2. In another large bowl, mix together the flour, sugar, cocoa, baking powder, baking soda, cornstarch, and salt.
3. Pour the wet ingredient in the dry ingredients and mix until smooth.
4. Place wrappers into a muffin tin and spray with some oil. Add 1 tablespoon of the batter onto each wrapper.
5. Put a teaspoon of peanut butter in the middle of the batter for each muffin.
6. Cover the peanut butter with a tablespoon of batter.
7. Bake at 375º F for 20 minutes.
8. Wait about 5 minutes to cool.